Innovative Ways To Use Knitted Pouf For Your House
Posted by Admin on December, 07, 2020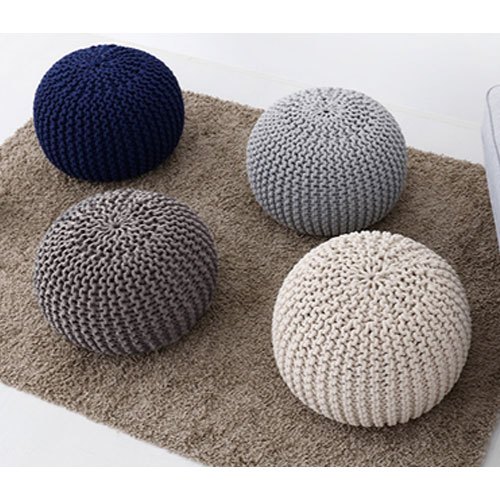 Poufs are versatile pieces of furniture that can be used in several ways. These are perfect for your home décor in a budget and can add a touch of color and texture to your house. Poufs along with functionality will give your room a magical vibe. Poufs are available in a variety of colors, patterns, design, and texture and can easily fit into your home design be it boho style or modern sleek look. Listed below are a few innovative ways to use a knitted pouf for your house.

Footrest
This is among the best use of pouf. Poufs used as footrest are great spots for resting your legs after a tiring and long day at work. As they are light in weight, they can easily be moved to any room with seating. Since they are compact they do not take much space and can fit into any space or room quite easily. A classic knitted pouf also adds a handmade vibe and feeling of comfort in your living room.

Side Table
If you do not want to invest in expensive and matching side tables for your bedroom, poufs are a great option. You can keep your phone and other small items on top of it. You can also use poufs for parties as an extra side table for serving your guest snacks and drinks. Poufs are multipurpose and economical to buy too.

Extra Seating
Seating can be a huge problem if you have a large family. If you do not want to crowd your living room with big furniture then kitted poufs can help you solve your seating problem by acting as extra seating for your living room. You can also use knitted poufs for your bedroom or dressing room to help you wear or take off your shoes.

Add An Accent To Any Room
Poufs can help you to jazz up your space as knitted poufs add texture and rustic vibe to any room they are placed. Knitted poufs give out modern appearance to your room and are available in multi-color to help easily fit into any design of your house or room. These are easy to maintain too and you can simply hand wash them. Knitted poufs will allow you to make a statement with your house design and also make a cozy nest for your lounging at the same time.

Apart from the above mentioned uses poufs can also make for an ideal child-friendly coffee table, place for pets to perch, etc. Poufs are durable as well as a comfortable piece of furniture that can be used regularly. The biggest advantage of using a pouf is that you can repurpose it according to your personal need.
Several knitted pouf suppliers offer world-class product quality at the best price possible to their customers. You can conduct research online to get great deals and discounts on knitted poufs on various websites.
This entry was posted on December, 07, 2020 at 14 : 36 pm and is filed under Knitted Pouf. You can follow any responses to this entry through the RSS 2.0 feed. You can leave a response from your own site.